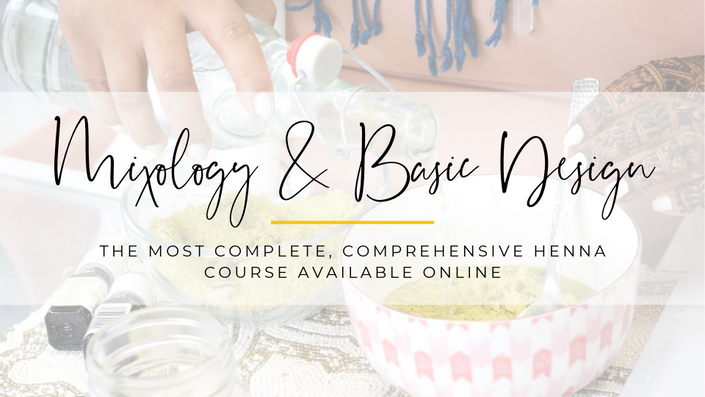 Mixology & Basic Design
The Everything-You-Need-To-Know Class for Beginner Henna Artists
Register Today
ARE YOU READY TO TAKE ON THE DREAM OF BEING A HENNA ARTIST?
SAY NO MORE, MY FRIEND.
New Art, New Skill Set, New Income in 30 Days (Or Less!)
You've seen them before - at the local festivals, on the boardwalk, at the mall, or at your favorite salon. Henna is all over social media, music videos, and in the press - with celebrities like Beyonce and Rihanna making henna the most on- trend body art out there! Simply put, the market for henna artists is booming right now, and it's time that you take your cut.
I know what you're thinking: Yeah, I love henna, but I don't know anything about it! I could never do that! I'm not an artist - I can barely manage a solid stick figure!
Listen, I've been there. When I first started working with henna, I didn't know a thing about it either! I can't even tell you how much time, money, and effort I spent wasted trying to figure it out and getting it wrong.
There were times when I'd have batch after batch of henna pastes that didn't stain - or worse, stained alright but were too thick or too runny and left a mess of designs on my skin that I'd have to wear for the next week. #HandOfShame
Today, after having experienced my fair share of struggle, frustration, and mistakes, I'm a professional henna artist making full-time income and living my dream.
But it was not easy.
I was doing it all on my own, without any help or guidance, and learning the ropes by pure trial and error. So. Many. Mistakes.
The good news is: you don't have to do it alone. You can start off on the right foot with all of the guidance you need.
Once you crack the code to the chemistry of henna, you'll be able to make your own signature paste that leaves rich, dark stains every time.
When you work with henna, you:
Become a specialty artist, creating a unique demand for your services
Create a loyal client base and following because no one can ever do it "just like you"
Make impactful income, even working part-time, so you can spend more time doing the things you love
STARTED FROM THE BOTTOM, NOW WE'RE HERE
(That's exactly how you'll feel when you reach the end of this course.)
You see, the Mixology & Basic Design course was designed specifically for new and aspiring henna artists just like you - providing key information from the ground up.
You know what's the actual worst? When you're doing henna for someone, and they ask you a question about it… but you don't know the answer. #embarrassing
By the end of this course, you'll know how to answer all of the things that your clients and followers want to know without skipping a beat!
Where is henna from?
Can only women wear it?
How long will it be wet?
How long will it last?
This feels tingly on my skin - why?
What does this design mean?
...and so on.
While you may not know those things now, with all of the knowledge that you'll acquire in this course, you'll be able to establish yourself as an expert in henna with ease - and not because you're "faking it until you make it" but because you actually know your stuff!
The best part? Instead of spending years trying to piece together the information that you'll need to be successful (and hoping that you've got it right), you can feel confident in your knowledge and capable of serving clients in just four weeks!
The contents of the course are delivered in our online classroom, and are easily accessed using any computer or smartphone - so you can learn whenever and wherever you are!
Each module is broken down into bite-size, manageable units that you can consume, understand, and apply easily, including video lectures, tutorials, and step-by-step how tos, PLUS a a downloadable workbook for you to use as you work through the content.
STOP DROOLING OVER THOSE INSTAGRAM HENNA ARTISTS.
IT'S TIME YOU MADE YOUR MOVE ON THIS CASH ART, TOO.
INCREASE YOUR VITAMIN M, GIRL.
(Money, money, money, moneyyyy)
TRUTH: Henna can provide you lifestyle freedom.
Did you know that the starting rate for a new henna artist in the United States ranges from $65-75 per hour on average?
(Did you know that the average hourly wage in the USA in 2018 is only $22.40?)
When you learn to henna, you gain access to more than just a fun new skill set. You also can begin making excellent income!
TRUTH: Henna is a very low-overhead business.
You can take a single cone of henna and turn it into $50+ easily.
And do you know how much that cone of henna will cost you when you prepare it yourself? Under a dollar.
It's a no-brainer.
TRUTH: I make full time income working a couple weekday evenings and on weekends exclusively.
I get to spend my days with my kids as a homeschooler. I get to book clients around the my schedule so I don't worry about missing the things that are important to me. Last year alone, I took my family on three vacations with the money I made from my henna business.
Want to know how you can do it, too?
The first step is learning the foundations of henna - from history to henna safety, from perfecting your paste, to the basics of design creation.
Inside the course, you'll learn everything you need to know to get started.
THE MOST COMPREHENSIVE HENNA COURSE FOR BEGINNERS

What's in the course?
Masterclass video training on how to prepare smooth, buttery henna paste that leaves rich, beautiful stains every time
Full breakdown of the chemistry of henna including multiple in-depth units on the THREE essential ingredients to a killer paste and which ones are favorites in my business
Eight info-packed modules including everything you need to know when starting your henna business so you can hit the ground running and get to making money faster
Mixology & Basic Design class workbook to help you follow along and get the most out of your learning experience
You'll leave this course with:
Understanding of the history of henna

Your own signature henna paste recipe

Expert level understanding of henna safety

The secrets to achieving dark stains

Fundamental knowledge of creating basic designs
...and more!
YOUR "HENNA INSPO" PINTEREST BOARD CALLED.
IT WANTS TO KNOW WHEN YOU'RE GONNA PUT IT TO #WERK.
Your Instructor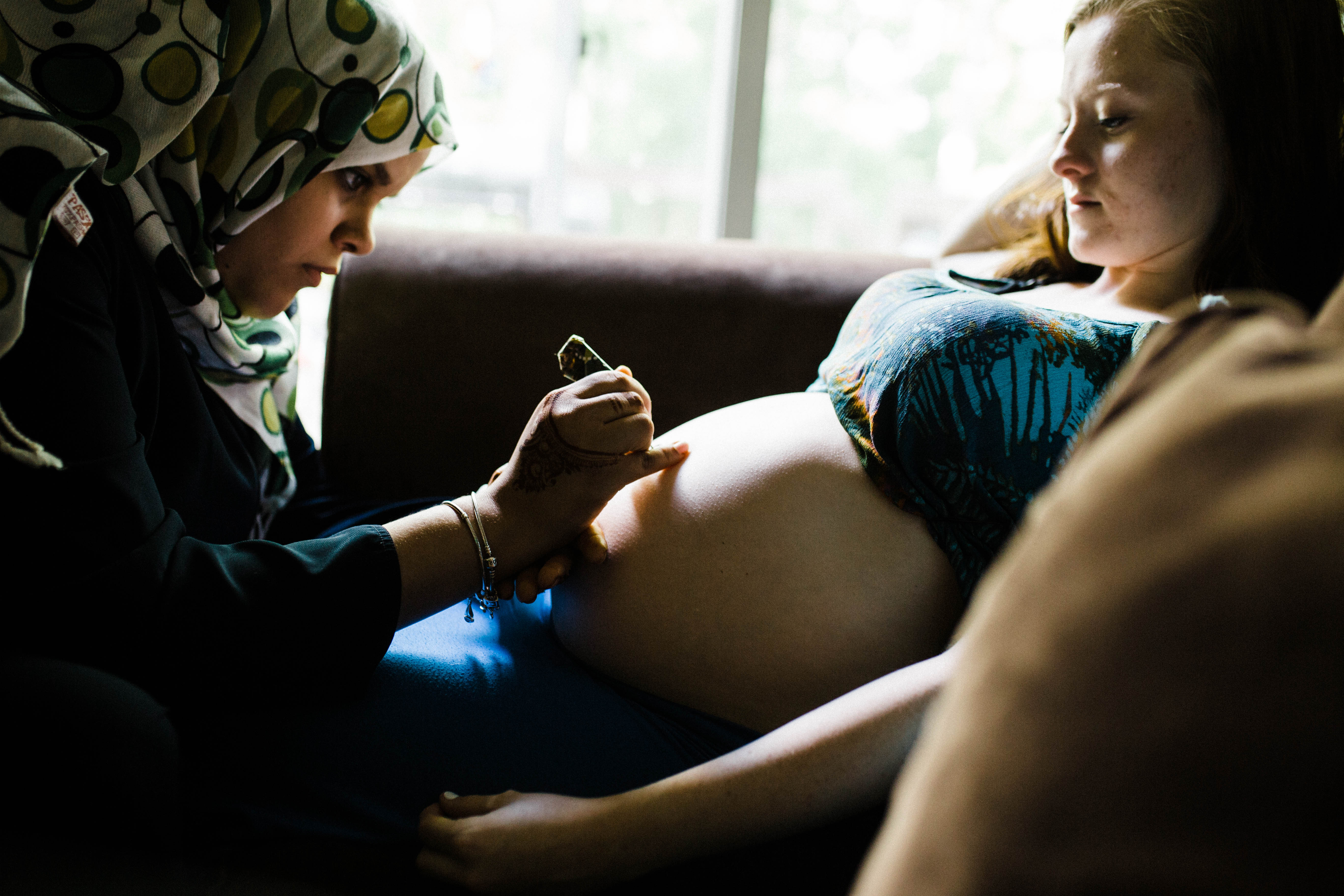 Chelsea is the playful and passionate henna artist turned business strategist and entrepreneur behind Cardamom & Clove Henna based in Baltimore, MD.
She is a mother of three, a homeschooler, and a social justice enthusiast. In her free time she enjoys reading, traveling, and hitting the gym to support her eating habits.
If you're ready to take your excitement for henna and elevate it from hobby to side hustle to full-fledged business, then you're going to absolutely love her.
LIFE IS TOO SHORT TO SAY NO TO YOUR DREAMS.

LET'S START THE JOURNEY TOGETHER.
What are you waiting for?

Let this be the changing point in your life, girl. You deserve the joy, opportunity, and creative release that henna has to offer. I'm here to help you along the way.
The time is now.
Frequently Asked Questions
When does the course start and finish?
You'll receive access to the course content upon enrolling, and will continue to have access for the life of the course!
How long do I have access to the course?
Once you've purchased the course, you'll be able to enjoy lifetime access! Simply log in to our online classroom, and you'll be able to review all of the content, now and forever.
Will I have access to the instructor?
Yes! Chelsea responds directly to student questions submitted in the course, so you can rest assured that you'll receive the answers you need to get started with henna confidently.
I don't have any artist experience. Is that going to be a problem?
Nope! There are many henna artists who do not come from an arts background. If you're willing to put the work in and practice, then this course is for you.
What if I am unhappy with the course?
Due to the fact that the proprietary digital files become immediately available to you when class begins, there is a no refund policy for this course.
Where can I purchase the materials used in class?
The majority of the items you'll need to begin working with henna are probably already in your home. As a student, you'll receive a special discount code to our online shop where you can purchase all additional materials. Purchase is not necessary.
Is there a recommended time for course completion?
In order to provide each student with ample time to complete the course, it is recommended that the course be completed over thirty days, or two modules each week. You are welcome to move through the course as quickly or slowly as you'd prefer!